Build Your Own
Money-Making Website

If you are a regular visitor to this website, you probably know that happiness – true happiness – can be achieved by following a relatively simple "formula".  First, it is critical to know what happiness really means to you, which I call your personal Definition of Happiness. 
Everyone's Definition of Happiness is different.  For many people, money, income, and even wealth are part of that Definition.  If you are one of those people (like me) then total happiness is difficult to achieve if you are struggling financially, or perhaps even if you don't have a certain level of net worth or can't enjoy a certain type of lifestyle.
Even if money and wealth are not part of your Definition of Happiness, though, studies show that a certain amount of money and a certain income level are important factors to an overall sense of well-being, life satisfaction, and even inner peace.
That's why I suggest (strongly) that everyone (yes, everyone) establish a multiple-streams-of-income startegy as part of their overall life's Happiness Plan.
One quick, attractive, and profitable way to generate a significant income quickly and inexpensively is by starting your own money-making website or blog.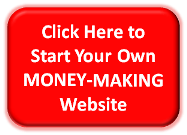 Anyone with a computer/tablet and an internet connection can do it.  And, unlike starting most other businesses (which generally takes tens of thousands, hundreds of thousands, or even millions of dollars), a  website or blog can be started for as low as $20 – but certainly no more than about $400 (that's what it cost me to start and run this website).
What's Your Passion?
As I state in my book, "BeHappy! at Work" and in my advice on multiple-streams-of-income, many people are in "jobs" they don't like (or at least are not passionate about).  If that's the case for you – then not only can a money-making website be an extra source of income, it can also be a way to change your career and use it as your primary source of income.
Let's say, for example, that you are a teacher (which you enjoy) and you also have a passion for cooking.  You might spend evenings and weekends creating new, tasty recipes.  You love to cook and are frequently "playing" in the kitchen, trying new things, and you constantly have the Food Network on TV.  So cooking is a passion for you.  It's fun and relaxing.

Well, you can turn that passion into an income stream by creating a food blog or website.  One person I know of did just that and within a year was making $10,000 per month – working just a couple of hours per day from her home.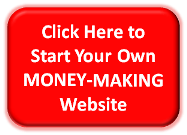 And anyone can do this with any passion.  Whether it's cooking, golf, pets, gardening, fixing things, personal development, making money, horseback riding, or anything else - a money-making website can be built around it. 

How to Start a Blog or Website
Starting a blog or website is not hard.  It's actually fairly simple, depending on what you decide to do and how you decide to monetize it.
The best and simplest way I have found (which is the system I use for this website) is Site Build It! (SBI!).  This system is for anyone who wants to build a website themselves inexpensively, with everything laid out simply.  There is no computer or internet knowledge or experience required.  Just a few initial introductory videos gets you started and you can have your website up and running (and generating income) within a few days.
The basic steps are:

Decide what your website will be about (your "niche" – preferably a "passion" of yours as mentioned above)
Do a bit of research on the number of people currently searching for your chosen topic
Sign up for SBI! (there are many other ways, but this is the best I've seen)
Decide on the best domain name and secure it (SBI! helps with this)

Fill in the information in the webpage templates provided by SBI!
Establish your monetization models (such as Google Adsense, donations, product sales, affiliate marketing, advertising, etc.)
Start generating traffic (SBI! shows you how to do this, too)
Make money
All this can be done in a few days and you could be making money by this time next week – again, depending on several factors.  Nothing is guaranteed.   It's generally not a "get rich quick" process, but it can certainly generate a nice income for anyone with a good system and the dedication to follow through.
Making Money Online
I certainly can't (and won't) predict how much money you will make with your website (if any) since it depends on several factors, like the popularity of your topic, the competition within your topic, your monetization strategy, your basic webpage setup, how much time you put into the business (yes, it is a business), and more.  I can say though, that with the right strategy, the more traffic you get, the more money you will make.  It really is a simple "numbers game".
If, for example, let's say you decide to put together a simple website on food and cooking and sell a basic product – like a $10 ebook – with some of your culinary techniques and recipes.   Now, let's assume in the early stages you get 100 visitors per day to your site (which is very easy to do), you could expect to get somewhere between 1% and 3% of your visitors to buy your ebook, which equates to 1-3 people per day buying your $10 book – making you between $10 and $30 per day, or about $300-$900 per month, which works out to $3,600-$10,800 per year.   And that's just the start – with only 100 visitors per day.  Now, as your site builds popularity, let's say you get 1,000 people per day (again, fairly easy to do for even a basic blog or website) you could expect to make $100-$300 per day – or $3,000-$9,000 per month, which equals $36,000-$108,000 per year) if you get that same 1%-3% purchase rate (which is the general average).  And it goes up from there.  At 10,000 people per day (a bit harder to do, but still very achievable with the right system), you're now talking about generating $1,000-$3,000 per day, which is $30,000-$90,000 per month, or $360,000-$1,080,000 per year!  Not bad for something that takes relatively little time and that you're passionate about.  And that's just from a $10 ebook.  If you sell a $20 ebook, now you're looking at the potential for many hundreds of thousands of dollars or even millions per year (nearly all profit – since an ebook costs almost nothing to produce and distribute) – assuming you get enough traffic and you get an average of 1%-3% of the people who visit your site to buy your ebook.
Again, this is not guaranteed, but it is fairly straightforward.  Like I said, it's a numbers game.  And, as I also mentioned above, this is just one way to make money from a blog or website.  There are many other ways to monetize (make money from) a website besides selling an ebook.
You can become an affiliate marketer – which means you don't even have to create a product yourself.  There are literally thousands of products people have created in almost every niche imaginable that are available to sell through your website as an affiliate – where you just get a "commission" for every sale (usually between 50% and 75% of the price of the product).  Most of the products I sell on this website are affiliate products.  Amazon.com also has an affiliate program (free) where you can sell anything on their site and get a small commission from every sale.
Then, there are other "autopilot" ways to generate income from your site, too.  Google Adsense, for example, is a great way.  You simply sign up for Google Adsense (which is totally free), and Google provides you a "code" to put on each page of your website.  Google then automatically populates each page (via your specific code) with small ads which are related to your topic on that page.  Then, everytime someone clicks on one of the ads (which again, are coded specifically to you) – you get paid a small commission (anywhere from a few cents to a quarter – or even fifty cents in some cases).  Again, it's a numbers game.  If you're getting 10,000 visitors per day, and just 2% of your visitors click on an ad somewhere on your site – that could mean an extra $10,000 per year income, without doing anything.  I know of many people who make thousands of dollars per month just through this strategy (and it's completely free).
It starts to add up. 
Again, none of this is guaranteed and there are many variables related to the money you could make.  With the right topic and the right system, though, it can be very profitable – and a lot of fun, too!
The best system I've found for an inexpensive, do-it-yourself website builder is Site Build it!  It's the system I use for this website and I do everything myself (and I'm no computer whiz) and spend just an hour or so a day on it.
So, if you are interested in learning more about Site Build It! – just click here or on the banner below and read more.

Believe me, if you are looking for a way to generate extra income (or even a significant income that can provide you financial freedom) working from home, with the flexibility to "work" from anywhere at anytime, this is a great way to do it.  I am sure you'll be happy you checked it out.
BeHappy! my friends
Related Articles and Information:
---
Required Earnings Disclaimer:
Every effort has been made to accurately represent this product and it's potential. Even though this industry is one of the few where one can write their own check in terms of earnings, there is no guarantee that you will earn any money using the techniques and ideas in these materials.
Examples in these materials are not to be interpreted as a promise or guarantee of earnings. Earning potential is entirely dependent on the person using our product, ideas, techniques and the effort put forth. We do not purport this as a "get rich scheme."
Your level of success in attaining the results claimed in our materials depends on the time you devote to the program, ideas and techniques mentioned, knowledge and various skills. Since these factors differ according to individuals, we cannot guarantee your success or income level.
Materials in our product and our website may contain information that includes or is based upon forward-looking statements within the meaning of the securities litigation reform act of 1995. Forward-looking statements give our expectations or forecasts of future events.
You can identify these statements by the fact that they do not relate strictly to historical or current facts. They use words such as "anticipate," "estimate," "expect," "project," "intend," "believe," "plan," and other words and terms of similar meaning in connection with a description of potential earnings or financial performance.
Any and all forward looking statements here or on any of our sales material are intended to express our opinion of earnings potential. Many factors will be important in determining your actual results and no guarantees are made that you will achieve results similar to ours or anybody else.
---
PLEASE CONSIDER...
If the information on this site helps you and you'd like to make a donation to BeHappy101.com (to help make others happy), please click on the button below to make a contribution. The amount you donate is entirely up to you. A portion will used to contribute to the happiness of others and is greatly appreciated.
[WHY DONATE?]