Discover The Secrets Needed to
Love Your Job, Make More Money,
Or Even Start A New Exciting Career Using What You Love To Do To Be Happy At Work!!

Just $3.75!!
| | |
| --- | --- |
| (or get it FREE here) | |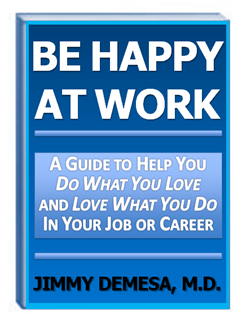 Just imagine yourself a year from now – absolutely loving your work, enjoying your job, making more money, advancing your career, or even changing to a new, exciting, fulfilling career (if that's what's best for you).

Imagine how your whole life would change – how happy you would feel – if every morning you woke up, without even the need for an alarm, because you're excited about starting the day and participating in a "process" (one you currently call "work") that inspires you and adds passion, fulfillment, and even fun to your life.

Even if you are currently unemployed, this e-book can start you on a path to getting your ideal job.

That's what the new book, BeHappy! at Work will help you achieve.
Just click the "Buy Now" button below to order it
for just $3.75!

IMPORTANT GUARANTEE: While most of the information here at behappy101.com is free, we want you to BeHappy! with anything you purchase on this site; our reputation depends on it. Nothing is more important to me personally than for you to be completely satisfied with the information you receive. So if you are not satisfied with anything you buy on this site, for any reason whatsoever, simply contact me and I will have a refund sent to you immediately.
---
Reviews
Be Happy at Work was the perfect thing for me. I was stuck in a job I didn't like, making an income that wasn't sufficient. This simple eBook gave me the plan, and the motivation, I needed to change my life completely. I am now doing what I love, and although I'm making only slightly more money, it doesn't matter anymore. I am soooo happy!
- A. Rodriguez

Unbelievable is all I can say. Changed my life. I can't believe I wasted so much time hating my job.
- P. Johns

Thank you, thank you, thank you. So simple. The step-by-step process opened my eyes completely to what I needed to see to be happy at work. I am loving life.
- D. Frisen

WOW!!! I am so grateful. I now know my passion in life and have used that to change my career completely. It wasn't easy, but this ebook gave me the knowledge and courage to make it happen.
- T. Frank

As an unemployed construction worker, I started to feel hopeless. Then I read "Be Happy at Work" and, using the process in the book, was able to figure out what I wanted and needed to do for an income.
- J. Price

PLEASE CONSIDER...
If the information on this site helps you and you'd like to make a donation to BeHappy101.com (to help make others happy), please click on the button below to make a contribution. The amount you donate is entirely up to you. A portion will used to contribute to the happiness of others and is greatly appreciated.
[WHY DONATE?]