Gratitude - The First Step to Complete Happiness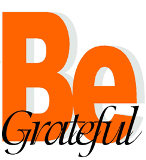 Cicero once said, "Gratitude is not only the greatest of virtues, but the parent of all others". And that's really how important gratitude can be to living your happiest possible life.
In fact, it's the first part of "The Happiness Formula".

That's because if you can be grateful for what's in your life right now - regardless of the circumstances you may be facing - then you have a positive baseline emotional perspective on life.
In fact, I would go so far as to say, if you can't be grateful for what you have now, then you may never be able to achieve true happiness, regardless of how much you get.
So, BE GRATEFUL for what's in your life right now - regardless of the circumstances you face, or how tough life may seem.
Start by trying these two simple and easy exercises to develop more gratitude (just click on the links):
Both of these are effective ways to develop more gratitude. And if you can make the Three Great Things exercise a nightly habit, it will literally change your life.

Happiness Product of the Week: BeHappy!
This is the foundational book that started it all. It forms the basis for the entire BeHappy! System. If you don't yet have a copy, get it now. I provide a no-questions-asked money back guarantee if it doesn't start you on a path to a better, happier life.
Click here to get it now.
BeHappy! my friends
---
PLEASE CONSIDER...
If the information on this site helps you and you'd like to make a donation to BeHappy101.com (to help make others happy), please click on the button below to make a contribution. The amount you donate is entirely up to you. A portion will used to contribute to the happiness of others and is greatly appreciated.
[WHY DONATE?]