BeHappy! ...
by Using "The 3 R's"
The "3 R's" is a phrase I created to describe the three most essential and fundamental "guidelines" toward designing your happiest possible life.

If you do nothing else, whether for yourself or for your children, use this
"3 R's" concept on a daily basis.

Here are "The 3 R's":
And here's a summary graphic on the basic message of "The 3 R's":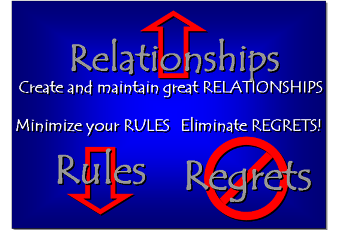 Now, for a full description of how to manage relationships, rules, and regrets (
The 3 R's
) to create the happiest life possible for you and those you care about,
click here
.
BeHappy!
(the book) has three full chapters - one on each of the "3 R's", so...

To ORDER BeHappy! NOW
Click here
Also, the
BeHappy!
Newsletter has regular articles related to "The 3 R's" to keep adding to your happiness constantly.
Click here
to subscribe now (a $150 annual value).
BeHappy!
my friends