"Hello from Beautiful
Catalina Island"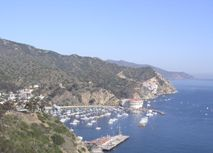 This is one of my favorite places in the world. Actually it is probably my #1 favorite place in the world – and I've been many places.
Have you ever been here? If so, maybe you know what I mean. If not, you should make it a goal to get here someday.
To me, it's the perfect getaway because it's just two hours from Newport Beach on our boat,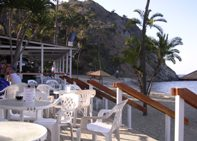 but it feels like we're far away in the South Pacific. The water is crystal clear, the sky is almost always blue, the sunrises and sunsets are gorgeous, and the atmosphere is relaxed and "tropical". It's also got my favorite beach bar, called Descanso Beach Bar. I've included a few pictures here to begin to describe what I mean.
We try to get over here as much as possible. Why? Because Catalina Island makes us happy – and that's the goal – to do things regularly that make us happy. I am always happy when I'm here at Catalina Island.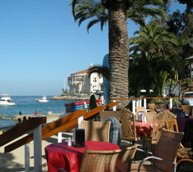 And that's the point of today's blog post. To be as happy as possible in life, we must do things regularly that add joy and fulfillment to our lives. This is especially important if you don't love what you do "for a living" (see the BeHappy! at Work section of this website for more information on being happier in your career, along with lots of strategies to enjoy your job more; or just click on this link to learn to love what you do for a living. It's also especially important right now – in late 2008 – when "times are tough", the economy is in "crisis", stress levels are high, and "fear is in the air".
If you've spent any time on this behappy101.com website, you know that there are many factors to living your happiest possible life. Some are deep, complex, internal factors – like dealing with adversity and health – while others, like going to Catalina Island for me, are more external in nature.
What are some of the "external" things you do – or could do - that make you happy? Is it playing golf? What about shopping? Or maybe it's surfing or painting. It could be reading a good book, watching a movie, or playing the piano. It could just be taking a nap in the afternoon. If you're rally fortunate, it could even be your job (which if it is, you're in the minority).
It doesn't matter what it is. All that matters is that you (1) know as many external factors as possible that make you happy and (2) do them on a regular basis.
So write down a list of things – external things – that make you happy. Write as many as you can – even small, "silly" things - preferably in order of priority (in other words, starting with the one that makes you happiest – the one you love the most - and working your way down to the one that is not as impactful when it comes to making you happy, but that's still a source of joy, fulfillment, or happiness for you).
I have this list written out in my PDA (Personal Digital Assistant/cell phone) and refer to it whenever I think about it (usually about once a month) – or especially when I feel stressed or a bit down. I go down the list and remind myself of something I can do – or need to do because I haven't done it in a while – and then go do it.
It's like having a "happiness playbook" (to use a sports analogy). And the more "plays" you have, the better chance you have of "winning the game" (in this case, that means being happier). My playbook, for example, includes:
1. Going to Catalina Island on our boat
2. Traveling somewhere
3. Taking a dinghy cruise in Newport Beach
4. Hiking or snowshoeing in Vancouver or Whistler
5. Going out to dinner with my family or friends
6. Going to an outdoor jazz concert
7. Working on my website, writing articles and books
8. Partying and grilling out in our backyard in Tampa
9. Watching a movie in our home theater
10. Hanging out with friends at a bar for Happy Hour
11. Going to Mariner's Church in Newport Beach
12. Going to my in-law's place in Ocala National Forest
13. Reading a great book


All these things make me happy. And there are several other things on my list as well (my playbook includes about 40 "plays"). I make it a point to do at least one of them at least every week. Some - like going out to dinner – are very do-able every week. Others - like coming here to Catalina Island - are only possible every few months (especially with the price of fuel these days). As you can see, I am also fortunate that "traveling somewhere" and "working on my website" make me happy since (a) my life is set up where I am traveling every 10 days to one of three places in North America (Newport Beach, Vancouver, and Tampa) and (b) I work on this website for several hours everyday. Again, there is more on this subject throughout the site, so be sure to visit it regularly for the latest tips and strategies.
And this blog post is about these "external" things you can do to make your life a bit happier. There is lots of information on the site to help with the "internal" things as well.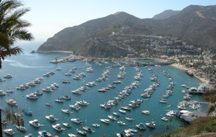 Anyway, make your "play" list. Do it right now, before you go on to other things. Then, make sure to do the things on your list regularly. You'll see that, along with the other tools and strategies found here on this website, it will have an impact on your happiness and your life.
Bye, for now, from beautiful Catalina Island.
BeHappy! my friends