General Health and Fitness

We can all live healthier, more fit, and even longer by following some relatively simple guidelines.  The problem is, there is so much information out there, much of it contradictory - or just plain wrong - that it's hard to know what's best for the healthiest possible life.
It is estimated that by the year 2030, 50% of Americans will be obese, and the rest of the world is experiencing a similar trend.  Believe it or not, it is estimated that 100% of Americans will be obese by 2200 based on the current trend.
Just as bad, the incidence of diseases like cancer, heart disease, diabetes, Alzheimer's disease, auto-immune diseases, allergies, and depression all continue to rise - and will soon be at epidemic proportions (if not there already).
We can do something about this!  
We can reverse this trend.  It will take some lifestyle and nutritional changes, though, and this ebook provided THE TRUTH about some of the issues and discusses the latest knowledge in the areas of health, nutrition, exercise, and longevity.
That's why I've put together this simple ebook, called "A Guide to Healthy Living".  It's an introductory "primer" on where to start looking and what to start doing to live a healthier, more energetic and disease-free life...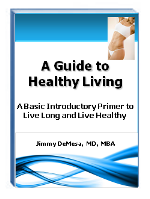 Live Longer, Live Healthier,
and Be Happier
with this new Ebook.

Get it now for just $1.99

Learn why the weight loss, disease prevention, and nutritional information we have regarded as "facts" for decades may not be true - and how you can improve your health and your lifespan dramatically with some simple changes.


And, by the way, if you haven't already gotten access to my FREE Happiness Formula video course, fill in the boxes below to get instant free access as a gift from me for visiting.
PLEASE CONSIDER...
If the information on this site helps you and you'd like to make a donation to BeHappy101.com (to help make others happy), please click on the button below to make a contribution. The amount you donate is entirely up to you. A portion will used to contribute to the happiness of others and is greatly appreciated.
[WHY DONATE?]