Stress-Free, Happy Holiday Planning (Already!!??)


Can you believe it? It's that time of year again – already!! The holiday season, as it's called, is approaching. What a wonderful time of the year! Right?
Well, it should be. For many people, though, it can be stressful, chaotic, and downright "depressing".
So, every year here at BeHappy101.com, we start a "Holiday Happiness Series" around this time of year to help make the holiday season happier, more joyous, and less stressful.
There will be several areas throughout the website over the next few months with holiday happiness tips and strategies, but for this post, here's a quick summary to start the season off right:
1. Make a plan. Now is the time to plan out the holiday season. Write it out. Use a "holiday organizer and planner" (see below). Anticipate the common problems and issues that arise during this time of year and include solutions in your plan.
2. Keep the real meaning of the season in mind. The holidays are about relationships and being grateful for "life". It's not about the parties and presents. Make sure to keep this in perspective.
3. Manage your stress proactively and allow for down time. Use stress-management techniques during the holidays. Continue your exercise program. Create an eating plan so you don't gain lots of weight. Make sure you have time planned out that isn't "scheduled". Take time to relax. Read, go for a walk, take a nap, or whatever helps you "chill out".
4. Establish a budget. Don't overspend. Remember point #2. Plan your gift giving, create a budget and stick to it. For example, it may have made sense to exchange gifts with extended family members when the children were young. When they are older, though, consider exploring other options - like exchanging names and sticking to price limits to ease everyone's time pressures and budgets.
5. Work together. Divide up the tasks that have to be done among family and friends (shopping, cooking, decorating, etc.). Don't feel you have to do it all.
Then, above all else … BE GRATEFUL. This is the cornerstone of happiness at any time of the year (as stated in many places here at BeHappy101.com). Take the time to appreciate what you have right now! Enjoy the holiday season. Make it "simple", happy, joyful, fulfilling, and stress-free.

Also, check out the great "Happiness Product of the Week" below for planning and organizing your happy holiday season. If nothing else, click here to get my FREE Holiday Happiness Planner.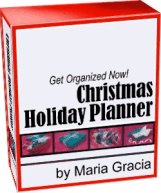 Happiness Product of the Week:
Holiday Planner
While this is called the "Christmas" Holiday Planner, it can really be used for any holiday planning to make your holiday season the best planned, most relaxed, most enjoyable ever!
It's packed with over 80 pages of easy to use tools that cover holiday planning, shopping, gift selection, decorating, invitations, meal planning, and much more!
Click here to check it out.
BeHappy! my friends
Comment on this Post
Do you have an opinion? Post a comment to start a conversation...
PLEASE CONSIDER...
If the information on this site helps you and you'd like to make a donation to BeHappy101.com (to help make others happy), please click on the button below to make a contribution. The amount you donate is entirely up to you. A portion will used to contribute to the happiness of others and is greatly appreciated.
[WHY DONATE?]