Music and Happiness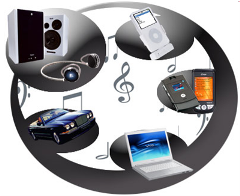 Music provides many opportunities to bring happiness into our lives. And with technology today, we can listen to music almost anywhere ... in our home or car, on the beach or in our office, and really just about anywhere.
I call music the "soundtrack of life" because it can help to add emotion to our life's experiences and create positive neuroassociations which can consciously and subconsciously bring joy into our lives.
In addition, playing music - like learning to play the piano or guitar - can be a great tool to add fun, fulfillment, mental strength, and even adventure to your life.
I myself have been a professional musician in my life. Saxophone was my primary instrument ... if you look closely you can see me in the background of this picture to the right. What a great experience it was! My years as a musician will always provide me some great memories and will always allow me to "escape" by playing. Just listening to some emotion-provoking music can do the same thing.

And, if you're like my very good buddy, David Santos, music (if it's your passion) can be your career. This is Dave playing bass guitar. He has played with some of the greats, like Elton John, Billy Joel, John Fogerty, and Crosby, Stills, and Nash. According to the many stories he's told me, this has certainly provided him some great fun, fulfillment, and adventure in his life.
But you certainly don't have to make music a career to have it provide great joy and fulfillment to your life. Just listening, and using it as a tool, is great.
Music can be relaxing and soothing.  It can be entertaining and motivating.  It can inject passion into many activities and can change the "spirit" of events and create "atmosphere" in your environment.


I have music playing almost all the time throughout our home.  I play music while I workout.  It's amazing how it provides the energy and motivation to do more.  Try it sometime.
By using music throughout the many areas of your life, you can enhance your experiences and create wonderful memories and neuroassociations.

Please comment on this concept below and let us know how you use music to improve your life and make you happier.
BeHappy! my friends

Comment on this Post
Do you have an opinion? Post a comment to start a conversation...
PLEASE CONSIDER...
If the information on this site helps you and you'd like to make a donation to BeHappy101.com (to help make others happy), please click on the button below to make a contribution. The amount you donate is entirely up to you. A portion will used to contribute to the happiness of others and is greatly appreciated.
[WHY DONATE?]