Goals & Goal-Setting

Goal setting is a common practice amongst people everywhere.

Proper goal setting is one of the most common practices of very successful people.

The word 'proper' is an important part of the process of goal setting. Because, the fact is, most people - even people with well thought out, written goals - can fail to achieve those goals because their goal setting process is flawed in some way.
Are you achieving your goals?
Do you have "proper" goals?
What are your goals for the next year, 5-years, 10-years and 20-years?

Start Your 3-Part Goal Setting Process Now...
Learn all about goal-setting and start my FREE 3-part goal-setting process to help you achieve everything you want in life by clicking on this "Get Free Access" button now...

Also check out this great goal-setting product to help in achieving your life's goals, whatever they are: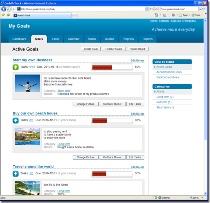 Goals on Track Software

Have you set goals for this year and beyond? Just as important, if you have set goals, do you really want to maximize your chances of accomplishing all your goals?

One common reason that we don't achieve the goals we set for ourselves is because we tend to get distracted and lose track of important things that need to be done consistently, in order to make real progress toward goals.

The key to really achieving your goals in life lies in constantly reviewing your goals and measuring your progress, in other words, keeping your goals on track.

Introducing Goals-On-Track, an easy to use, web 2.0 style goal setting, goal tracking, task and time management software that helps you accomplish any goals in life. Click here to get this GUARANTEED system for setting and achieving your goals.
PLEASE CONSIDER...
If the information on this site helps you and you'd like to make a donation to BeHappy101.com (to help make others happy), please click on the button below to make a contribution. The amount you donate is entirely up to you. A portion will used to contribute to the happiness of others and is greatly appreciated.
[WHY DONATE?]